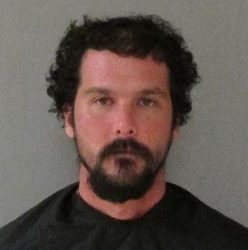 Palm Coast, FL – Two children, ages 1 and 3, are in the Department of Children and Family's custody today. Their father, 32-year-old Richard Zorda of Ormond Beach, is in the Flagler County Jail, charged with child neglect and leaving the scene of a crash in Palm Coast.
Flagler County Sheriff's deputies responded to a call on Commanche Court in Palm Coast for a report that someone had hit a mailbox last Friday (November 22). The witness reported a red Dodge Durango swerving down the street just after 10 p.m. The witness said that the truck left the roadway, hit a mailbox, then parked on the swale. She was unsure if anyone left the vehicle.
When deputies approached the vehicle, they found the children strapped in their car seats in the back seat. They also found the driver's side window down with the keys in the ignition. They checked the children and found them to be in good health with no signs of injury. One of the children said, "daddy was driving."
Deputies searched the immediate area but did not find the children's father. A search of the vehicle, deputies noted the odor of an alcoholic beverage. The interior of the vehicle was covered in trash, with cockroaches seen crawling all over the interior where the children were seated.
The investigation of the area continued and about 45 minutes after deputies arrived, a white man, identified as Zorda, was seen walking towards the vehicle. They made contact with him and he confirmed that the children were his.
Zorda told deputies that he had been visiting a female friend, Tabitha. He was secured inside a patrol car while deputies went to speak with "Tabitha," who stated that Zorda was at her home to "pick up his stuff." She said she didn't know that the children were in the vehicle. "Tabitha" denied being romantically involved with Zorda and said she did not want her husband to know that he had been in the house.
Deputies returned to Zorda and read him his Miranda rights. He admitted to driving while drinking but said he didn't remember hitting the mailbox. He gave deputies a conflicting story to the one told by "Tabitha," stating that he'd been there to take a shower. Zorda told them that he had regained custody of his children in September but that they also have a "foster mother" he was recently sharing custody with.
Deputies made contact with DCF. The investigator who responded told deputies that Zorda did regain custody of the children in September 2019. DCF took custody of the children.
Both charges against Zorda are felonies. He remains in the Flagler County Jail.
The post Father Charged With Child Neglect And Leaving The Scene Of A Crash appeared first on NewsDaytonaBeach.
Source:: News Daytona Beach