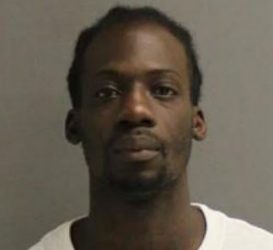 Daytona Beach, FL – The Daytona Beach Police Department is asking for the public's help in finding 34-year-old Anthony Burgess. He's wanted for armed robbery after robbing two women, ages 61 and 90, while they were unloading groceries from their car.
One of the victims says that the suspect approached and as she turned to see who it was, he sprayed her in the eyes with some sort of pepper spray, which caused her vision to blur. As she began to scream in pain and fear, according to the report, the suspect grabbed her purse from the back of the car and walked around to the passenger's side. The older victim said the suspect pushed her as he was trying to get her purse from the floorboard. She fought back but said the man was stronger.
The women's screams alerted neighbors who quickly came to help. The suspect ran off down the block according to witnesses. The witnesses say they saw an older model white 4-door car and a black female sitting on the driver's side. The witnesses heard the victims screaming and turned to see a thin black man running toward the car carrying two purses.
The younger victim's phone pinged, using the "Where's my iPhone" feature. It showed the phone had been thrown off the Seabreeze Bridge. It was recovered but severely damaged.
The investigation, including the receipts from the victims' shopping trip to Bellair Plaza, led officers to the store's video surveillance. They were able to track them and saw the suspect vehicle. They watched it park near the victims' car and the female followed them into a store. When the victims left the parking lot to go home, the video showed the suspects' car following them.
DBPD has a warrant for Burgess, issued on October 23. When he is arrested, he will be held on a no-bond status on a charge of robbery with a firearm. He does have a history of violent crime including aggravated battery, possession of a firearm by a convicted criminal and most recently for domestic violence.
Anyone with information on Burgess is asked to contact Detective David Dinardi at (386) 671-5219 or DinardiDavid@dbpd.us regarding Case 190020658.
The post DBPD Looking For Strong Arm Robber appeared first on NewsDaytonaBeach.
Source:: News Daytona Beach