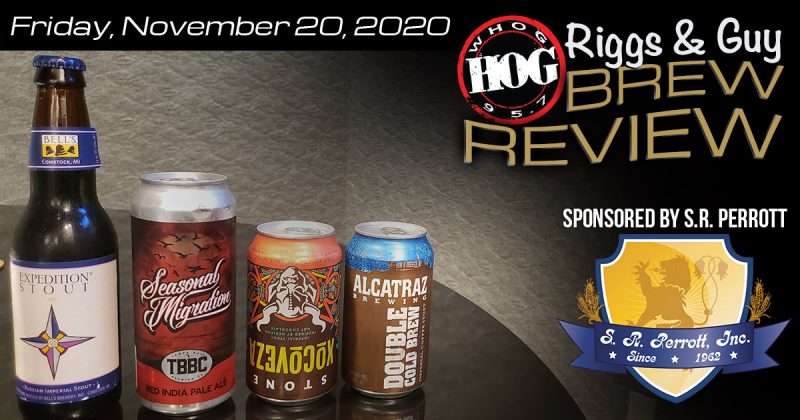 On this weeks installment of Riggs & Guy Brew Review with Josh & Amelia from SR PERROTT we were surprised with High ABV craft beer JUST in time for Thanksgiving!
We Started off with a Local flavor from Tampa Bay Brewing Company. It's their Red IPA "Seasonal Migration" a delicious IPA with hints of a little pineapple and coconut. It clocks in at 6.5% ABV! We then moved on to one of Riggs favorite breweries, Stone out of Escondidio California. They brought us a beer that came from a home brewer that won a contest. It's called Xocoveza. Brewed with peppers and Mexican hot chocolate. This one clocked in at 8.1% ABV
In this round, we had to strap on out seatbelts because the ABV just kept going up! We dove into the waters of Alcatraz Brewing to sample their Double Cold Brew. Definite notes of coffee, but for such a high ABV, it was surprisingly smooth and easy to drink! This one clocked in at 8.8% ABV. Finally we ended our high octane journey with the highest abv of the day… Bell's Expedition Stout. It's their Russian Imperial stout. Slightly more aggressive with the alcohol content but it's not over powering. If you like Imperial Stouts…. this one is for you. Expedition Stout clocks in at 10.5% ABV.
Please enjoy these beers in a responsible manner. If you want to know where to find them, head to www.srperrott.com/beerfinder.
Cheers!