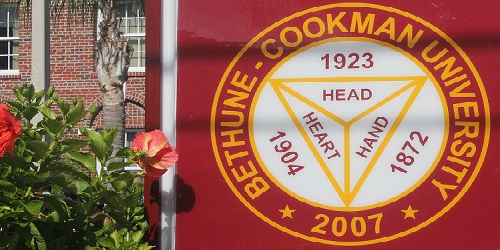 Orlando, FL – The Florida Blue Florida Classic returns for a 40th time, with the Bethune-Cookman Wildcats facing off against the FAMU Rattlers.
And it'll be the first Florida Classic for Bethune's new president, Dr. E. LaBrent Chrite. Needless to say, he's excited.
"This is a great way to showcase the extraordinary talent of our respective universities," said Dr. Chrite to News Daytona Beach. "Obviously the highlight is the football game and the bands."
Dr. Chrite also said that the event is a way for both schools to come together as a community to celebrate the legacies and histories of the event. He's also excited about the economic impact the game brings to the area.
"This is about a $25-30 million economic impact that's inconsequential," said Dr. Chrite. "So we're excited to be contributing to the economic vitality of the State of Florida."
The game will take place at Camping World Stadium in Orlando, as it has in the past, again sponsored by Florida Blue. Florida Blue also announced that they reached an agreement with the Florida Classic Consortium to extend the title sponsorship until 2022.
The game has averaged nearly 60,000 annual spectators since the start of its residency in Orlando in 1997. That's a 47.2% increase over the average attendance it saw in Tampa.
Additionally, revenue from the game and its ancillary events, such as the Battle of the Bands, are invested in scholarships and other academic opportunities at both institutions and in the West Lakes communities surrounding the stadium.
Last year, B-CU won against FAMU 33-19, and the Wildcats are looking to take home a win this year too.
"Hail Wildcats!," Dr. Chrite exclaimed.
Events begin today (November 21st) with the Florida Classic Night of Distinction and the Battle of the Bands following the next day (November 22nd). You can find a full schedule at the Classic's website.
The post 40th Florida Classic Returns This Weekend appeared first on NewsDaytonaBeach.
Source:: News Daytona Beach