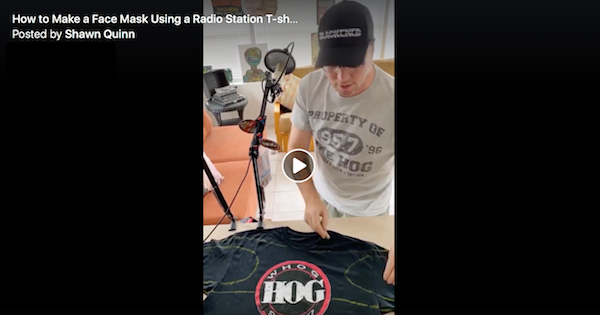 Make no mistake, this is one of the weirdest videos I've ever made. I never imagined I've be recommending you cut up one of our awesome 95.7 the HOG t-shirts to help the world but here we are; I'd rather you be safe and we'll have more t-shirts.
Please donate professional masks (N95 and surgical masks) to hospitals. The mask we are making can help protect you and other people but it is not a replacement for other critically important things like staying home, frequently washing your hands with soap and water, and staying the recommended distance of 6 feet from other people.
Based on the data, it is recommend that using cotton material with a paper towel is much better than no mask. Remember to discard the paper towel after wearing and wash the mask before reuse.
Here's how to make a face mask using a radio station t-shirt. Enjoy.
Here is a great breakdown of exactly how it's done from Masks4All. You can also check out other DIY masks from here.