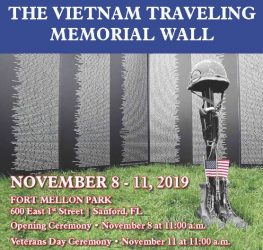 Sanford, FL – The Vietnam Traveling Memorial Wall, part of Vietnam and All Veterans of Brevard, is set up at Fort Mellon Park in Sanford through Tuesday, November 12.
The three-fifths scale of the Vietnam Memorial in Washington, D.C., is a reminder of sacrifices made during the Vietnam War.
The Memorial Wall display is open 24 hours per day and is free to the public. the opening ceremony is tomorrow (November 8) at 11 a.m. A Veterans Day Ceremony is scheduled for Monday, November 11.
Volunteers are needed for set up, dismantling and four-hour watch positions. Volunteers should report to the information tent at the south opening of the Wall.
You can find the link to volunteer by clicking here.
.
The post Vietnam Traveling Memorial Wall in Sanford For Veterans Day appeared first on NewsDaytonaBeach.
Source:: News Daytona Beach