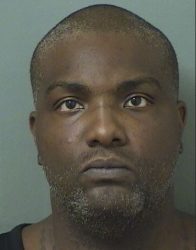 DeLand, FL – The man charged in three murders that took place in Daytona Beach between December 2005 and December 2007, 37-year-old Robert Hayes, is now under indictment on those charges by a Volusia County grand jury. State Attorney R.J. Larizza will seek the death penalty against the man dubbed the Daytona Beach killer.
DBPD – Suspected Serial Killer In Custody
Larizza said that Hayes is indicted on three charges of First Degree Murder using a Firearm in the deaths of 45-year-old Laquetta Gunther, 34-year-old Julie Green, and 35-year-old Iwana Patton. DNA evidence has tied Hayes to Gunther and Green. Forensic evidence has also linked Hayes to the murder of Patton.
The charges are capital felonies, which means they are subject to the death penalty. Larizza says he's in the process of filing a notice of intent to seek the death penalty for each case.
Since Hayes arrest in Palm Beach County in September, Larizza said a woman who is believed to be a survivor of a murder attempt by Hayes has come forward. He says the new witness did not report the crime at the time it happened but the news came out about Hayes being arrested and she decided it was time to talk about the incident. Larizza said Hayes victims were typically people who would not report a crime. The women in the cases he's been charged in had all been prostitutes at one time or another.
The survivor victim has been interviewed but Larizza said they are looking at some legal aspects of the information and it's relevance to the cases that have had indictments returned. He said, "It certainly goes to show that there could be more information out there that could surface as well, as we work through the prosecution of these cases."
No court date has been set at this time. Larizza said that death penalty cases take longer to be processed.
The post State Attorney To Pursue Death Penalty In Serial Murder Case appeared first on NewsDaytonaBeach.
Source:: News Daytona Beach