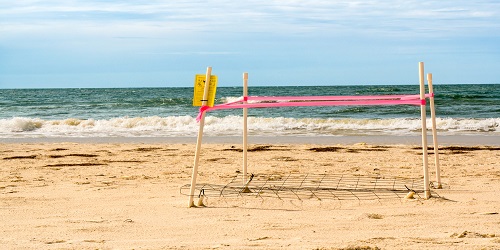 Daytona Beach, FL – It was a banner year for sea turtle nests in Volusia County this year with 984 nests being found on our beaches in 2019. The season ended on October 31. Jennifer Winters, Sea Turtle Habitat Conservation Plan Manager for Volusia County, said the final count was 984. The number would be higher but rough seas created by Hurricane Dorian destroyed about 300 of them or the eggs were drowned by the storm surge. The previous record was 919 nests in 2012.
Dorian and the wild seas are also the reason that there have been around 600 washbacks. Winters explains that washbacks are sea turtles that made it out to the seaweed line. Hatchlings were barely making it into the ocean before getting washed back.
The hatchlings and washbacks are normally seen in the fresh seaweed on the tide line. Winters said if you do see any sea turtles, please don't put them back in the ocean. They are likely worn out from the rough seas and would probably not survive. Anyone finding a sea turtle should make sure it's out of harm's way and leave it on the sand, if possible. Provide shade if you can and before contacting Volusia Beach Safety at 386-239-6414, determine your location to the best of your ability. During off-hours, between 7 p.m. and 7 a.m., call Sheriff's Dispatch at 386-248-1777, extension 6.
You can find more information on sea turtles in Volusia County by clicking here.
The post Record Year For Sea Turtle Nests In Volusia County appeared first on NewsDaytonaBeach.
Source:: News Daytona Beach