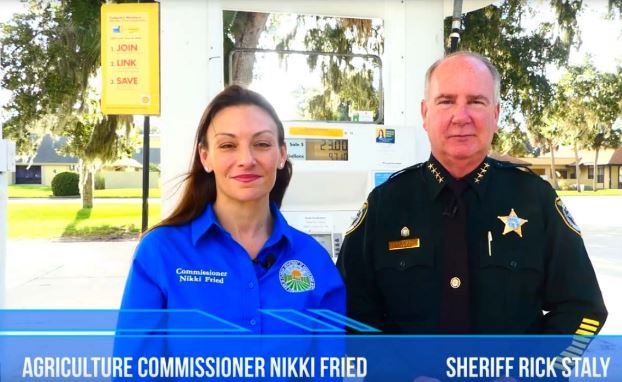 Bunnel, FL – This holiday season, the Flagler County Sheriff's Office will collaborate with the Florid Department of Agriculture to warn residents about the dangers of card skimmers.
Skimmers are small electronic devices inserted into card readers, usually at gas pumps, that copy card information in order to duplicate cards or access bank accounts. In 2019 alone, the Department of Agriculture has removed almost 1,300 gas skimmers state-wide. Thirty of those gas skimmers were found in Flagler County.
In a short public service announcement, Flagler County Sheriff Rick Staly and Florida Agriculture Commissioner Nikki Fried inform the public on the dangers of skimmers and how to find/avoid them.
"I am very thankful to Commissioner Fried for her partnership in getting this message out to our residents in Flagler County and across the state," Sheriff Rick Staly said in a release. "The holidays can be a hectic time and that is exactly what these thieves are counting on. The success of their scam depends on you being in a rush and not paying attention. Don't be an easy target! Taking a few extra seconds to be safe at the pump can save you a lot of money and a lot of hassle."
For more information on how you can be safe at the pumps this holiday season visit the Department of Agriculture's site.
The post FCSO Partners With State On Gas Skimmer Awareness appeared first on NewsDaytonaBeach.
Source:: News Daytona Beach