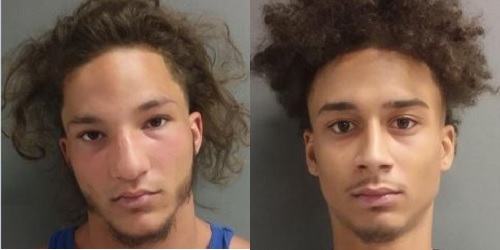 Deltona, FL – Two guns, one of them loaded and the other one stolen, and several black ski masks were found in a car driven by 18-year-old Leverett Smith, with 18-year-old Trey Anderson as a passenger. Both were arrested. Smith has since bonded out but Anderson remains in the Volusia County Jail.
Volusia Sheriff's deputies saw the vehicle the teens were in, along with two others, ages 12 and 19, run a red light in Deltona around 3:30 Monday (November 18) morning. Anderson gave a false name and was asked to step out of the car. When the deputy patted him down for weapons, he found a Glock 21 .45 caliber shoved down his pants leg. The gun was loaded with 11 rounds and one round in the chamber.
Deputies found the ski masks and the other gun, which had been reported stolen in Osceola County. A check of the car revealed several bullet holes in it.
Anderson is charged with carrying a concealed weapon and providing false identification to law enforcement. He was also arrested on an active Seminole County warrant for violation of probation on two counts of vehicle burglary and two counts of grand theft. He remains in custody being held on no bond.
Smith is charged with grand theft firearm, unsafe storage of a firearm and contributing to the delinquency of a minor. He is out on a bond of $3,500.
At this time, there are no charges against the 12-year-old and the 19-year-old at this time. The investigation continues into any connections between the occupants of the vehicle and other crimes.
The post Deltona Traffic Stop Yields Guns & Ski Masks appeared first on NewsDaytonaBeach.
Source:: News Daytona Beach