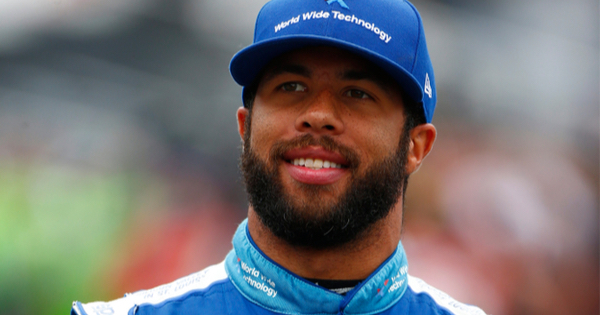 The NASCAR season may be suspended because of the coronavirus pandemic, but that hasn't stopped the drivers from taking it online. ICYMI, NASCAR is in week 3 of the eNASCAR iRacing Pro Invitational Series, which basically features real life NASCAR drivers racing each other via a video game simulation.
It's actually interesting to watch, especially when there's drama. Take for example, driver Bubba Wallace, one of 32 drivers competing in the Food City Showdown at virtual Bristol Motor Speedway on Sunday. Wallace had a disappointing showing with a wreck during the 11th lap of the 150-lap race that ended up in the driver "rage-quitting" the race before it was over.
Bowyer cut in front of Wallace's car on a straightaway, ended up with Wallace in the wall, and Bowyer spun out. Neither driver seemed pleased but Bowyer stayed in the race while Wallace quit, saying on his Twitch account, "Y'all have a good one. That's it. This is why I don't take this [expletive] serious. Peace out!" And then he was gone.
Here's what it looked like from Wallace's POV. Warning: NSFW AUDIO
Wallace's short fuse not only gave him a DQ/DNF in the virtual event but shortly after the incident, Wallace took to Twitter to mock the what happened, and well, one of his sponsors was watching too and didn't take too kindly to his poor sportsmanship.
Joint/muscle cream Blue-Emu decided to pull their sponsorship of Wallace's real-life racing team, and they just recently signed a multi-year contract to become an official partner of NASCAR, so they'll be around. Oh and they did it on Twitter. Ouch.
Life lesson here boys and girls. Online actions have real-life consequences.
[h/t roadandtrack]