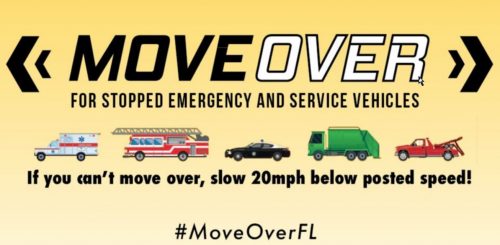 Daytona Beach, FL – This is National Traffic Incident Response Week, an awareness campaign to promote the Move Over law, which emphasizes responder safety.
Florida's "Move Over" law requires drivers to move over a lane if it's safe to do so, for law enforcement, emergency, sanitation, utility service vehicles, and tow trucks stopped on or near the roadway.
If a driver can't move over, they are required to slow to a speed that is 20 miles per hour less than the posted limit. If the limit is less than 20, you're required to slow to five miles per hour.
Violating the Move Over law could result in a fine, fees and points on your driver's license.
FDOT's Road Ranger program is meant to keep responders safe but since July 1, eight of them have been involved in crashes in the state of Florida. In September, one Road Ranger was hit by a passing vehicle and suffered serious injuries
The post An Awareness Campaign To Promote "Move Over" Law Is Underway appeared first on NewsDaytonaBeach.
Source:: News Daytona Beach