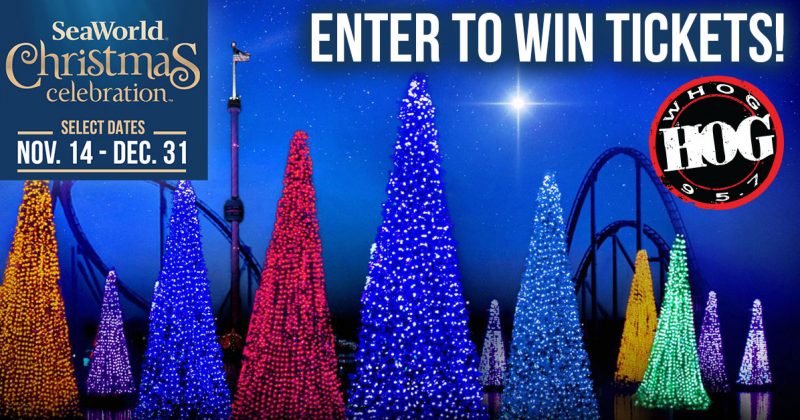 You can also enter below for your chance to win:
Gather your family and join all of your festive friends at SeaWorld®'s Christmas CelebrationTM, Nov. 21 through Dec. 31. SeaWorld transforms into a winter wonderland sparkling with holiday cheer, excitement, and over 3 million beautiful lights. Experience award-winning entertainment like the show-stopping ice-skating extravaganza Winter Wonderland on Ice. Meet Rudolph the Red-Nosed Reindeer or head to Wild Arctic® and visit with Santa himself. Create unforgettable holiday memories with a magical Christmas celebration you can only find at SeaWorld.
Winter Wonderland on Ice
Christmas comes to life on a stage of ice, jewels, and light as skaters dazzle and delight in this show-stopping ice-skating extravaganza. The other star of the show is the sea of lighted trees sparkling over the lake. It's a don't-miss experience for the holidays that will take your breath away.
Sea of Trees
Take a walk through our wintery, watery wonderland and immerse yourself in a sea of holiday trees. Our glistening forest sparkles to music and lights up the water—and your eyes. As the lights dance to holiday classics, your heart will soar with wonder and delight at this truly awe-inspiring Christmas treat. Plus, a magnificent centerpiece towers 70 feet above the water.
Sea Lion High: The Christmas Special
Excitement is running high for Sea Lion High's Christmas pageant, but when things go wrong, it's up to Clyde and Seamore to save the holidays. Join the students and faculty of Sea Lion High for their hilarious new Christmas Special. It's the silliest way to celebrate the season!
Meet Rudolph and Friends
Meet Rudolph the Red-Nosed Reindeer and friends at SeaWorld's Christmas Celebration. Share Rudolph's family fun and holiday traditions while making spirits bright.
The Christmas cheer begins with Rudolph's ChristmasTown, where guests can meet Rudolph and Bumble from the classic family Christmas television special, Rudolph the Red-Nosed Reindeer.
Christmas Market
The Christmas Market, nestled along the park's Bayside Pathway, features festive entertainment and delicious culinary delights. At this bustling market, you and your family will discover one-of-a-kind gifts and snack on scrumptious holiday treats. You'll also encounter playful elves and a charming model train village. Relax near the warm glow of the fire pit with a holiday craft brew and experience a wonderful view of the vibrant Sea of Trees, or sing along to musicians who bring the sounds of the season to life on the gazebo stage. The Christmas Market truly brings the season to the sea.
Meet Santa Claus at Wild Arctic
This holiday season, SeaWorld invites you and yours to take a ride to the top of the world to meet the Arctic's most famous resident: Santa Claus.
Guests of all ages can share wishes and dreams with Santa Claus as they explore SeaWorld's Wild Arctic this Christmas. Experience amazing animal encounters and a heart-warming visit with Santa in a holiday adventure you can only have at SeaWorld.